Pubic Area Shaping by Waterjet Liposuction
Liposuction pubic area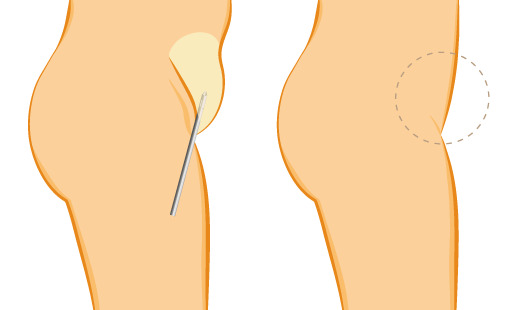 The pubic area is located at the lower end of the trunk. This is important as all subcutaneous water follows the gravity and settles where the surrounding pressure is least. You might have noticed, that there is not much fat in your belt region. The Lipo Space pubic area can be considered as a lower lower belly. This becomes especially obvious if your lower belly Lipo Spaces has been removed by liposuction or tummy tuck before.
cushion above your intimate area
hidening labia
contour step to lower belly
might be reasons for a liposuction of the forward pelvic or pubic area.
Shaping the pubic area
Ideal liposhaping results are created by large area liposuctions. So, if the pubic area (Hill of Venus) is to be improved an overlapping digging of the lower belly Lipo Spaces is necessary. Since after-surgery compressions compression is not easy to apply in the delicate region the compression garment has to be organized well ahead of the planned procedure. It has to be assured, that there will be as little water as possible in the post-operative tissue. Otherwise a retraction of the skin will be hindered.
Enough fat for Lipo Shifting?
In many cases of pubic area shaping we will dig enough #liquidgold for a small Lipo Shifting like a face or lip lipofilling.
| | |
| --- | --- |
| Liposuction: | WAL / SSAL |
| Duration: | 45 min |
| Clinic stay: | outpatient |
| Anaesthesia: | local numbing |
| After care: | lymphatic self-drainage |
| Sport: | from day 7 |
| Costs: | Click here |
| Clinics: | Berlin, Duesseldorf, Frankfurt |
Pubic liposuction with Waterjet Tech
Waterjet liposuction to pubic area is as a liposuction without heat or mechanical energy the best way of gentle fat removing. As the suction volume is always more than the sprayed water volume there is no doctor-caused super swelling during the lipo surgery operation.
Consultation topics
form of the Hill of Venus
body weight history and regime
focus on post-op lymphatic self-drainage
extent of the lipo surgery procedure
after care elastic taping
Please send one front- and one side-photo. Use the contact form or DM on Insta lipocenter.europe State your health status and list your previous lipo treatments to your belly and pubic area when you ask for a telemedical consultation. To avoid a long pre-op waiting time you may non-commitally reserve a lipo surgery slot for Venus-Hill shaping liposuction at your favourite location ahead.