Lower Leg Shaping by Waterjet Liposuction
Liposuction of lower legs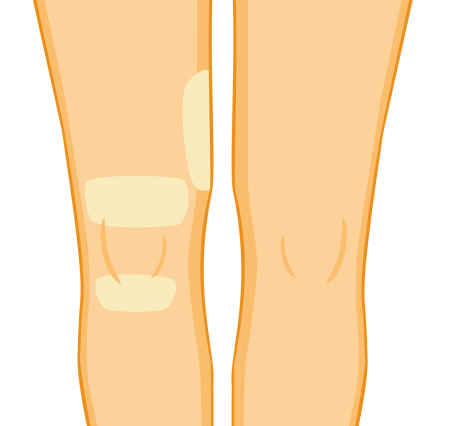 The lower legs, especially the ankles and feet, represent the most-time gravity-pointed end of the body. This might seem not worth mentioning, but the water pressure of your body height while standing upright hinders the lymphatic fluid to stream upwards. Swollen legs support embedding of fatty acids into fat cells. Fatty acids attract water. This mutual relation has to be understood for an effective after care.
thick lower legs
invisible ankles
severe ankle swelling
unshaped legs
might be reasons for a liposuction of lower legs.
Lower legs liposuction is surgical leg shaping
As fat tissue of lower legs contains more water than other lipo tissues, it is more vulnerable. A certain concept has to be present to the surgeon, not to dig holes in an initially even skin surface. To reach the fat around the ankles, even on the feet requires some experience to make patients happy. The importance of an adequate after care can not be over-exaggerated.
Lower leg fat is a good filler for body conturing
In general weight reduction belongs to a serious liposuction after care. In case breasts or butts are in danger, lower legs fat can be used for a Lipo Shifting.
| | |
| --- | --- |
| Liposuction: | WAL / SSAL |
| Duration: | 200 min |
| Clinic stay: | outpatient |
| Anaesthesia: | local numbing or general |
| After care: | lymphatic self-drainage |
| Sport: | from day 15 |
| Costs: | Click here |
| Clinics: | Zuerich, Frankfurt, Berlin |
Calves and ankles liposuctionwith waterjet tech
Waterjet liposuction of lower legs is the mildest though aesthetic most efficient fat removing technique. Besides manual digging of wetted tissue there will be no high energy like laser, ultrasound or mechanical motor-slicer be used. This spares tiny blood and lymphatic vessels, saves the connective tissue from over-reacting and scaring. With the right after care the conditions for skin retraction are optimal after a professional waterjet liposuction of the lower legsand ankles.
Consultation topics
total body fat distribution
body weight history and regime
previous treatments to lower legs
extent to ankles and feet
Please send one front- and one side-photo. Use the contact form or DM on Insta lipocenter.europe State your health status and list your previous lipo treatments to your legs and knees when you ask for a telemedical consultation. Pre-treated patients have to be seen on a seperate appointment. To avoid a long pre-op waiting time you may non-commitally reserve a lipo surgery slot for leg shaping liposuction at your favourite location ahead.